« back to Movies
What to Expect When You're Expecting
Release Date: May 18, 2012
Genres: Comedy, Drama, Romance
Cast: Cameron Diaz, Elizabeth Banks, Anna Kendrick, Dennis Quaid, Jennifer Lopez, Brooklyn Decker, Chace Crawford, Rodrigo Santoro
Directors: Kirk Jones
Official Site: http://whattoexpectthefilm.com/index.html
Distributor: Lionsgate Films
TV fitness guru Jules and dance show star Evan find that their high-octane celebrity lives don't stand a chance against the surprise demands of pregnancy. Baby-crazy author and advocate Wendy gets a taste of her own militant mommy advice when pregnancy hormones ravage her body; while Wendy's husband, Gary, struggles not to be outdone by his competitive alpha-Dad, who's expecting twins with his much younger trophy wife, Skyler. And rival food truck chefs Rosie and Marco's surprise hook-up results in an unexpected quandary: what to do when your first child comes before your first date?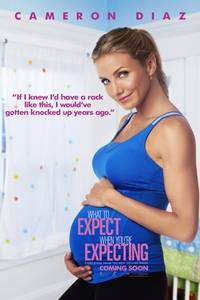 Show Times / Buy Tickets
There are no current showings for What to Expect When You're Expecting in this area.