« back to Movies
Step Up Revolution
Release Date: July 27, 2012
Genres: Drama, Musical, Romance
Cast: Ryan Guzman, Kathryn McCormick, Misha Gabriel, Peter Gallagher, Stephen Boss, Chadd Smith, Megan Boone, Jessica Guadix, Cleopatra Coleman, Tommy Dewey
Directors: Scott Speer
Official Site: http://www.facebook.com/StepUp4.3D
Distributor: Summit Entertainment
Emily, the daughter of a wealthy businessman, arrives in Miami with aspirations of becoming a professional dancer, but soon falls in love with Sean, a young man who leads a dance crew in elaborate, cutting-edge flash mobs. The crew, called the MOB, strives to win a contest for a major sponsorship opportunity, but soon Emily's father threatens to develop the MOB's historic neighborhood and displace thousands of people. Emily must band together with Sean and the MOB to turn their performance mobs into protest mobs, and risk losing their dreams to fight for a greater cause.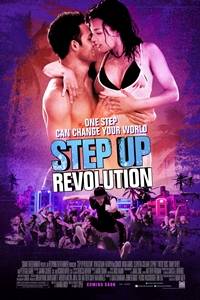 Show Times / Buy Tickets
There are no current showings for Step Up Revolution in this area.