« back to Movies
High School
Release Date: None
Genres: Comedy
Cast: Adrien Brody, Sean Marquette, Matt Bush, Colin Hanks, Michael Chiklis, Adhir Kalyan, Yeardley Smith
Directors: John Stalberg, Jr
Official Site: http://www.highschool-themovie.com/
Distributor: Anchor Bay Entertainment
Roll up for an anarchic, hilarious comedy with echoes of John Hughes and Judd Apatow. Just as he's about to be named valedictorian of his school, high-flier Henry reconnects with his dropout pal Travis, and has his first experience of stonerdom... which is exactly when the school principal decides to drug test the entire student body. With Henry's academic destiny hanging in the balance, there's only one way to level the playing field. Everybody must get stoned.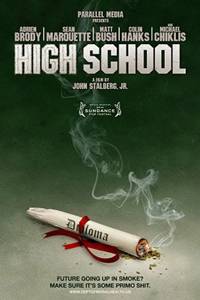 Show Times / Buy Tickets
There are no current showings for High School in this area.