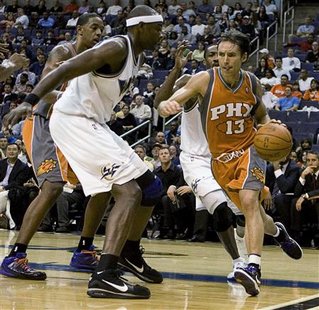 PHILADELPHIA (Reuters) - Steve Nash scored 21 points and made 20 assists as the Phoenix Suns continued their fine start to the season with a 119-115 victory over the Philadelphia 76ers Monday.
Jason Richardson top-scored with 29 points as the Suns (7-1) overcame an eight-point deficit in the final quarter to move clear of the idle LA Lakers at the top of the Western Conference.
Andre Iguodala led the way for the 76ers with 24 points while Marreese Speights chipped in with 20 as Philadelphia fell to 3-4.
The Suns, who failed to make the playoffs last year, trailed the 76ers 102-94 with 7:07 remaining but rallied to post their third straight victory.
"It's a great start to the season for us," Nash told reporters after posting his first 20-20 game since the 2005-06 season.
"We weren't really sure what to expect from this team out of the gate. We want to build a really nice chemistry and play hard at the very least."
FREE THROWS
Jared Dudley scored 13 of his 18 points off the bench in the final quarter, where he made three of Phoenix's 15 three-pointers.
With the game tied at 108-108, Richardson scored the next five points to give the Suns a comfortable cushion and Nash made six straight free throws down the stretch to seal the game.
One of the most potent offenses in the NBA, the Suns had six players in double figures scoring.
The 35-year-old Nash, who signed a contract extension to stay with Phoenix in the offseason, has looked rejuvenated as he orchestrates the team's arsenal.
Nash leads the league in assists and he tied his season-high of 20 Monday, which was two off his career best.
The Suns finished their five-game Eastern Conference road trip with four wins while the 76ers lost for the third time in four.
"We were better tonight than we have been in the last three games (but) it's a loss. That's about it," Iguodala said. "We lost the game but we should have had it."
Philadelphia forward Elton Brand had just 10 points and hasn't appeared on form this season since returning from an shoulder injury that sidelined him for most of the 2008-09 campaign.
(Writing by Jahmal Corner in Los Angeles; Editing by John O'Brien)