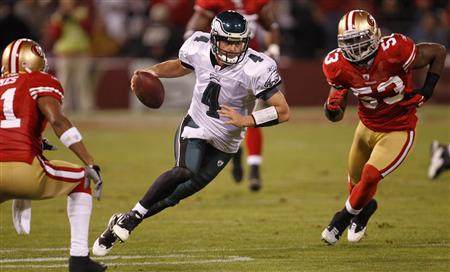 SAN FRANCISCO (Reuters) - Kevin Kolb confidently stepped back into the role of starting quarterback and the Philadelphia Eagles held off the winless San Francisco 49ers in a 27-24 victory on Sunday.
Playing in place of the injured Michael Vick, Kolb threw for 253 yards and one score while driving his team down field for the decisive field goal that put the Eagles up 10 points with 4:35 left.
"We're not surprised, Kevin is an outstanding quarterback," Philadelphia's LeSean McCoy told reporters. "It just so happens that we have two great quarterbacks."
San Francisco's Alex Smith led a 49ers comeback attempt with two touchdown passes in the fourth quarter, but the inconsistent quarterback lobbed an interception with 28 seconds left to stall his team's final drive.
He finished with 309 yards passing but had three critical turnovers as the sputtering 49ers fell to 0-5 for their worst start since beginning 0-7 in 1979.
San Francisco trailed 24-10 with 13:26 left, before Smith found Frank Gore for a one-yard scoring toss with 2:02 left.
San Francisco got the ball back with 1:28 remaining and drove down to the Eagles' 44 yard-line before turning it over.
The win was Kolb's first this season as the starter. He began the season as the top quarterback before he was concussed in the first week allowing Vick to take the starting role and lead the team to two victories.
Vick suffered a rib injury last week and Kolb's strong play could lead to a further selection dilemma for Philadelphia.
"I'm not worried about all that and I don't care about it," Kolb said. "My biggest thing is I want to come in and help us win. I just have to play my game."
Philadelphia fell behind 7-0 in the first quarter but scored 17 unanswered points to take a 17-10 lead at halftime.
The Eagles' defense then stepped up in the fourth quarter and sacked Smith, who fumbled into the hands of safety Quintin Mikell for a 52-yard return for a touchdown.
(Reporting by Jahmal Corner in Los Angeles; Editing by Frank Pingue/Greg Stutchbury)