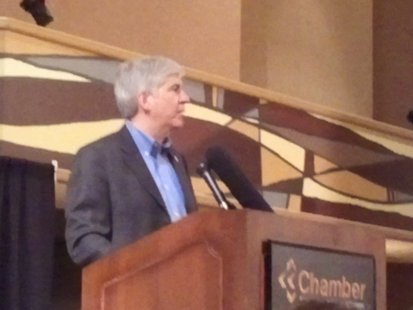 PORTAGE -- There are a lot of people unhappy with government right now and it's sparked some to do more than just complain, they are initiating recall efforts, to boot the lawmakers that offend them out of office.
One is underway in Portage targeting three school trustees. Of course
Governor Snyder is also the focus of another petition drive. A Facebook page has been created to promote a recall against Marshall Republican and State house Speaker Jace Bolger. They say they plan to submit petition language today.
A statewide group wants to repeal the state's new emergency manager
Law. Betsy Coffia of Traverse City says it strips local voters and elected officials of all their authority and right to act on their own behalf. She says they need over 161-thousand signatures to force a vote on the changes in the law. They are apparently working on petition language.
A recall effort against State Representative Al Pscholka has hit a setback. On Monday, the Berrien County Election Commission voted unanimously to reject the language of a recall petition that had been submitted by Benton Harbor City Commissioner Dennis Knowles. Knowles had written in the document that Pscholka should be removed from office for his involvement with Public Act Four -- otherwise known as the emergency
manager law.
It went on to state that the citizens of Benton Harbor have been robbed of their voting rights by the legislation. Berrien County Clerk Louise Stine says the Election Commission's three members -- herself, Treasurer Bret Witkowski, and Judge Al Butzbaugh -- voted against the recall language on the grounds that it wasn't clear enough in multiple ways.
For example, "Public Act Four" could refer to more than one law. Different recall language can still be submitted to the county at any time, though.