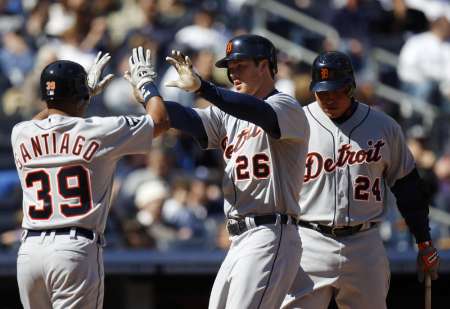 DETROIT (WKZO) -- One of the more clutch hitters in the Tigers post-season lineup in 2011 was Ramon Santiago. The super-sub will now return to the Tigers in 2012 after signing a 2-year-contract to remain a Detroit Tiger through the 2013 season. Santiago batted .260 with 11 doubles, 3 triples and 5 home runs and 30 RBI in 2011.
More on Santiago's career from Detroit Tigers media relations:
In 10 seasons at the major league level with the Tigers (2002-03, 2006-11) and Seattle Mariners (2004-05), Santiago is hitting .249 (455x1824) with 62 doubles, 16 triples, 25 home runs and 166 RBI in 672 games. He is batting .267 (275x1031) with 37 doubles, nine triples, 19 home runs and 112 RBI in 396 games with the Tigers since the beginning of the 2007 season.
Santiago has seen action at second base (217 games), third base (14 games) and shortstop (438 games) during his major league career. He has compiled a .996 fielding percentage at second base since the start of the 2006 season, while he has posted a .980 fielding percentage at shortstop during that same stretch.