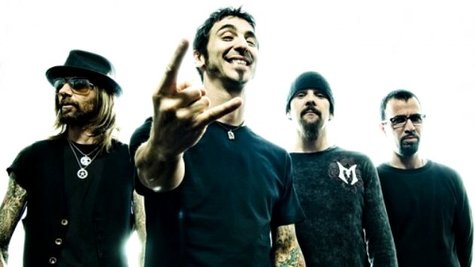 In just a few weeks, Godsmack will hit the road with Shinedown , Papa Roach , Staind and P.O.D. for the third annual Rockstar Uproar Festival. Godsmack drummer Shannon Larkin says that the band is looking forward to spending some quality time with all the bands on the bill, especially Shinedown.
"We love Shinedown," Larkin tells RockstarUproar.com . "I'm looking forward to hanging out and watching them play. We've done a couple of one-off shows with them. They're the nicest guys you'll ever talk to."
Larkin added that the upcoming tour feels like "a family reunion," because they've performed with just about every band on the festival's lineup. "We've done shows with Papa Roach for the last decade, and we personally like them also," explains the drummer. "Of course, Staind are our brothers. We just spent eight weeks on the road with them, and they're wicked down-to-earth Massachusetts dudes."
The Rockstar Uproar Festival kicks off on August 17 at Capitol Federal Park at Sandstone in Kansas City, MO.
Copyright 2012 ABC News Radio