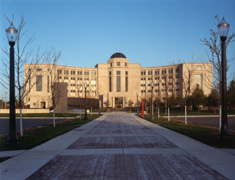 LANSING (WKZO) -- The Michigan Supreme Court has ruled that a voter initiative to repeal the state's emergency manager law will appear on the November ballot after all.
The group Stand Up For Democracy submitted over 200-thousand valid petition signatures in an attempt to have the issue put to the voters. Citizens for Fiscal Responsibility, however, challenged the petitions, saying that the type-size did not comply with state law.
The Justices, with one Republican joining three Democrats, ruled that the font size was close enough, and that its more important that the democratic process move forward.
The law, revised and supported by the Snyder Administration, gives considerably more authority to the Emergency Managers to void union contract, sell publicly owned land and fire and lock out locally elected officials.
Emergency Managers now in place in Michigan will now have to revert back to the more limited list of authorities permitted in the law as it was written 20-years ago, eliminating some of the broad powers that prompted this voter initiative.