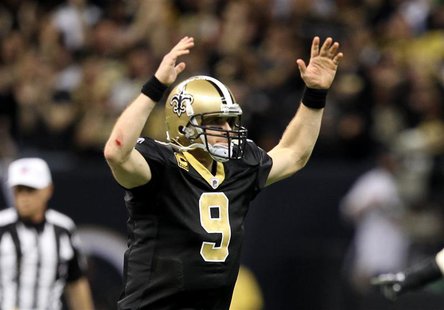 INDIANAPOLIS (Reuters) - New Orleans Saints quarterback Drew Brees and Philadelphia Eagles running back LeSean McCoy were named winners of the National Football League's Air & Ground Players of the Year awards on Wednesday.
In honor of the winners, FedEx donated $25,000 to the Junior Achievement programs in both New Orleans and Philadelphia to encourage and educate the next generation of entrepreneurs on how to start and grow their own small businesses.
Brees was honored after setting the single-season record for most passing yards with 5,476, eclipsing former Miami Dolphins quarterback Dan Marino's mark of 5,084 yards set in 1984.
The New Orleans signal caller also set an NFL record for best completion percentage of 71.2 and led the league with 46 touchdown passes.
The other finalists in fan voting for top quarterback were Aaron Rodgers of the Green Bay Packers and Tom Brady of the New England Patriots, who will be playing the New York Giants in Sunday's Super Bowl in Indianapolis.
McCoy, who ran for a league-high 17 touchdowns, won out over Maurice Jones-Drew of the Jacksonville Jaguars and Ray Rice of the Baltimore Ravens.
Averaging 4.8 yards per carry, McCoy rushed for 1,309 yards this season.
(Reporting By Larry Fine; Editing by Julian Linden)