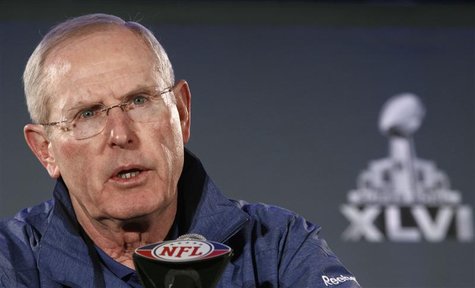 By Larry Fine
INDIANAPOLIS (Reuters) - One last elimination game remains for the New York Giants, and coach Tom Coughlin said Friday he already knows what he will tell his players before they take the field Sunday in the Super Bowl against the New England Patriots.
"Finish," said Coughlin, repeating his theme for the season after disappointing ends to the previous two campaigns for the Giants.
"The year before, the two years before, I didn't think we finished very well. We wanted that to be the number one theme, the very first thing we hit them with when they came to camp.
"And it will be the last thing they hear from us before they take the field."
The Giants were up and down during the season, but responded to Coughlin's urgings when it was do-or-die time, and have won five elimination games in a row after a loss to the Washington Redskins dropped them to 7-7 heading into a Christmas Eve game against the New York Jets.
Then came a season-ending, New Year's Day win over the Dallas Cowboys that put the Giants into the playoffs, followed by victories over the Atlanta Falcons, the NFC's top-seeded Green Bay Packers and the second-seeded San Francisco 49ers.
Coughlin said he addressed the team after the Washington defeat.
"I said, 'Look, we've got two games to go. We've got to win two games and if we do that we'll determine our own fate and we'll get into the playoffs.'
"From that point on, it has been one single elimination game after another. The players have responded very, very well. They've come together as a group. When we've had our backs to the wall, the players have performed very well."
(Reporting By Larry Fine; editing by Steve Ginsburg)