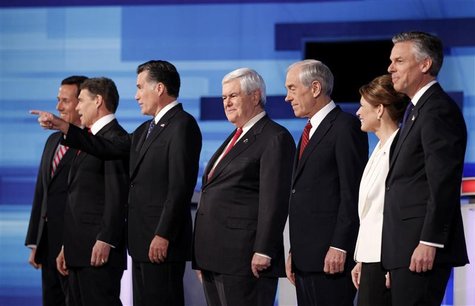 By Christopher Doering
Washington - A proposal that would allow betting on the winner of the U.S. presidential election will face a 90-day review by the same agency charged with overseeing corn, oil and gold in the U.S. futures market, an agency official said on Tuesday.
The U.S. Commodity Futures Trading Commission will review an application by the North American Derivatives Exchange (Nadex) seeking to list options contracts tied to election outcomes such as the 2012 presidential race or whether Democrats or Republicans will control the U.S. House of Representatives and Senate.
The small Chicago futures exchange had hoped to begin offering the contracts on January 4, but any contracts will be delayed pending a decision by the CFTC.
A Nadex official could not be reached for comment.
"The time will allow a fulsome review of the proposal, but I have serious concerns that the legal hurdles can't be overcome," said CFTC Commissioner Bart Chilton in a statement.
"While some folks might see betting on elections as fun, I'm not sure it is the stuff for serious risk management markets that help facilitate the economic engine of our democracy."
The review comes as Republicans, marked by rollercoaster ups and downs in opinion polls for most candidates, hold the Iowa caucuses on Tuesday that are known for weeding out candidates.
A top finish would provide the winner with a boost in the volatile contest to choose a Republican challenger to Democratic President Barack Obama in the November 6 election.
Nadex currently offers contracts on currencies, oil and stock indexes, with nearly a million contracts traded last year. That pales in comparison to market leader CME Group Inc's three U.S. futures exchanges, where 13 million contracts change hands daily, each with an underlying value of as much as $1 million.
Bettors can currently pick their favorite candidates at Intrade, a Dublin, Ireland-based electronic exchange that also offers betting on U.S. economic conditions and movie awards.
Trading events in the United States, however, have a mixed record.
In 2003, the Pentagon closed down an effort to use futures contracts to predict acts of terrorism after the project drew a public outcry. The 2010 Dodd-Frank Act specifically outlaws futures contracts tied to assassinations, war and terrorism.
But other, less-controversial contracts linked to events remain in the United States, like futures at CME tied to the snowfall in Minneapolis or the severity of the hurricane season.
(Reporting By Christopher Doering; editing by Jim Marshall)