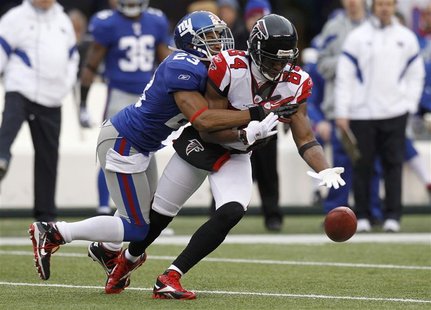 By Larry Fine
EAST RUTHERFORD, New Jersey (Reuters) - Eli Manning threw for three touchdowns to continue his brilliant National Football League (NFL) season, but the most uplifting element in the New York Giants' rout of the Atlanta Falcons on Sunday was the team's defense.
The Giants eliminated the Falcons from the NFL playoffs on Sunday and advanced to a second round clash with the Super Bowl champion Green Bay Packers next week with a 24-2 victory during which the defense did not give up a point.
"Probably our best effort so far this year," defensive end Justin Tuck said about the win.
The Giants franchise has long been associated with hard-nosed defense, with Hall of Famer Lawrence Taylor headlining a defensive unit that won a two Super Bowls, and a fierce pass-rushing unit that included Tuck triggering New York's surprising run to the NFL title four years ago.
Injuries crippled the defense this season and confusion in their makeshift defensive secondary resulted in a slew of easy touchdowns for opponents and dropped the Giants to a lowly 25th place in points allowed.
Manning compensated with his best season, and as some key players returned from the injured list the Giants began looking like giants again on defense as they closed the regular season with wins against the New York Jets and Dallas Cowboys to win the NFC East division and qualify for the playoffs at 9-7.
"The last three weeks - do-or-die games for us - we really came out and put things together," said defensive captain Tuck. "But it still feels like we can play better and we probably will have to next week going up to Green Bay."
Head coach Tom Coughlin, who posted his first Giants playoff victory at home after steering his team to four road wins as a wild card team in their 2007 Super Bowl triumph, felt his club was finding the right formula.
"We played outstanding defense and that set the tone for everything else that happened in the game," said Coughlin. "If we can continue to play defense like that, we can make ourselves heard in this tournament."
The Giants, who registered 11 sacks in their last two wins, had just two against the Falcons but applied constant pressure on Atlanta quarterback Matt Ryan and stifled a strong Falcons running attack.
Twice the Giants defensive line stopped Ryan short on quarterback sneaks on fourth-and-one plays with Atlanta striving to keep touchdown drives alive.
"The two fourth down stops were just outstanding and both were in the shadow of the goal line as well," said Coughlin. "That really inspired everybody, to be honest with you."
New York's second-year, Pro Bowl lineman Jason Pierre-Paul said the Giants had vowed that Atlanta would not be able to rely on their rushing attack.
"They can't run the ball on us," Pierre-Paul said after New York limited Atlanta, the NFL's seventh best scoring team, to just 64 yards on the ground. "We came out today and said, 'You can't run the ball on us,' and that's what we did.
"We knew it was a playoff game and we knew that if we lose, we're out. So we had to give all our effort and that's what we did."
(Reporting by Larry Fine; Editing by Frank Pingue)