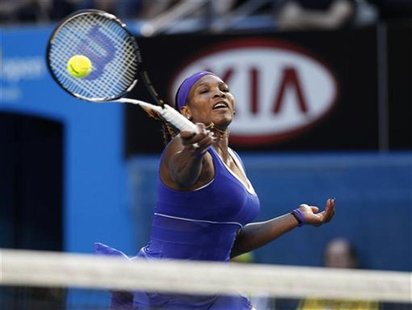 By Ian Ransom
MELBOURNE (Reuters) - Mature student Serena Williams raced into the last 16 of the Australian Open on Saturday by drubbing Hungary's Greta Arn in less than an hour and said she hoped the year's first grand slam was a good enough excuse not to do her homework.
The 30-year-old Williams is due to start courses in kinesiology and management on Monday, but her preparations had taken a back seat to getting physical treatment in between matches, the former world number one told reporters.
"I'm not reading. School starts on the 23rd, so I kind of texted one of my professors to tell him I was in Australia, and I don't know if I can make the first assignment in time," Williams told reporters after thrashing Arn 6-1 6-1 in the evening session at Rod Laver Arena.
"He was like: 'It's fine. I was wondering if it was really you'.
"I haven't been able to reach my kinesiology teacher. Hopefully she will understand that I am going to get those assignments in. But I'm a wee bit busy, so we'll see."
Williams, whose older sister Venus has dabbled in interior design and taken a management course, said her interest in kinesiology -- the study of human movement -- was piqued by her injuries, which have grown in frequency and complication in recent years.
The 13-times grand-slam champion was unable to defend her 2009 and 2010 titles at Melbourne Park last year due to a freak foot injury and carried a sprained ankle into the tournament this year.
PAIN RELIEF
Despite charging around court against Arn, Williams said her injury was still causing considerable pain.
Quizzed about her interest in holistic therapies, she said: "I don't think it's really common in sport yet, you know. I mean, I'm on synthetic medication now for my leg.
"When it's an acute injury, you have to take something that can take away the pain."
After giving Arn a withering lesson in grand-slam tennis, Williams appeared intent on lecturing reporters on a wide range of topics, from acupuncture ("I can't do that (course) online"), to adulation from younger players ("I'm no God"), to the second grand slam at Roland Garros ("The French is a different surface; it's slower.").
The last American in the singles draws, 12th seed Williams faces world number 56 Ekaterina Makarova in the fourth round, with fourth seed Maria Sharapova a likely quarter-final opponent.
After a rusty first-round match, Williams has improved with each match but warned her game was "no way near" where she wanted it to be.
"I'm just trying to play through it," said Williams, whose only glaring error against Arn was a mistimed smash that would have wrapped up the first set 6-0.
"I just can hit a little deeper and better, be more consistent. Hopefully that will come as I keep playing."
(Editing by Clare Fallon)