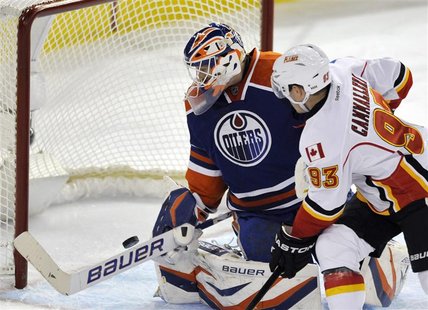 (Reuters) - Devan Dubnyk made 44 saves, capped by the game-ending stop, as the last-placed Edmonton Oilers produced an unlikely 2-1 upset of the San Jose Sharks in a shootout on Monday.
San Jose dictated the play with a 45-18 advantage in shots, but behind Dubnyk's heroics the home team forced a shootout where they converted two attempts to the Sharks' one.
Sam Gagner and Taylor Hall netted for Edmonton and Logan Couture's final attempt was saved in the fourth round to end the contest and snap the Oilers' three-game losing streak.
"It was an important game for us," Dubnyk told reporters. "We owe it to our fans to play better.
"We don't have to win 41 games but you have to go out there and give them an effort. I want to show the Oilers that I am a starting goalie."
Jordan Eberle gave the home side a 1-0 advantage early in the second period before Couture evened the score in the third with his 21st goal of the season.
The Sharks (26-14-6) fired 17 shots alone in the third, Dan Boyle leading the team with nine on the night, but could break the deadlock against Edmonton (18-26-4).
The loss was San Jose's third in a row, dropping them into a tie with the Los Angeles Kings for first in the Pacific Division.
Making matters worse, Sharks defenseman Brent Burns suffered a knee injury in the third period and had to be helped off the ice.
"I don't know how bad it is yet," said Burns, who collided with Edmonton's Ales Hemsky. "I tried to go down the wall and it was just a reaction play. I knew it wasn't good right away."
(Reporting by Jahmal Corner in LA; Editing by Alastair Himmer)