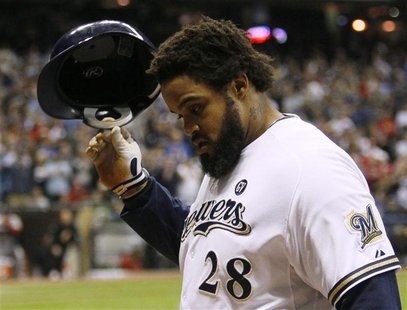 (Reuters) - Three times All-Star first baseman Prince Fielder reportedly has agreed to a nine-year, $214 million contract with the Detroit Tigers, Major League Baseball's website said on Tuesday.
The Tigers did not immediately confirm that the hard-hitting Fielder would join Miguel Cabrera from the Milwaukke Brewers to give Detroit an explosive one-two punch at the plate.
Fielder's signing also would fill a major void for the American League Central champions, who last week lost primary designated hitter and cleanup hitter Victor Martinez, who tore the anterior cruciate ligament in his left knee and is expected to miss the 2012 season.
Fielder, 27, hit 38 home runs and drove in 120 runs while batting .299 with the Brewers last season. He became a free agent in the offseason.
He had 230 home runs in seven seasons with the Brewers, including 50 in 2007.
At $214 million, the contract would have an average annual value of $23.78 million, just shy of the $24 million annual average of the $10-year, $240 million pact Albert Pujols signed with the Los Angeles Angels last month, MLB.com said.
(Reporting By Gene Cherry in Salvo North Carolina; editing by Julian Linden)