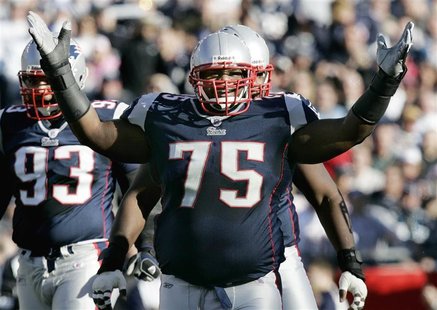 By Simon Evans
INDIANAPOLIS (Reuters) - Defensive tackle Vince Wilfork already has a Super Bowl ring to his name but Sunday he goes into the NFL's championship game as the leader of a New England Patriots defense and wanting to play every down.
Wilfork was a rookie on the Patriots' team who won the Super Bowl at the end of the 2004 season with victory over the Philadelphia Eagles; a relatively minor figure in a defense filled with quality veterans.
But his increased importance to the team can be measured in the amount of time he spends on the field.
His involvement in plays has gradually grown and by the AFC title game against the Baltimore Ravens, Wilfork played an impressive 67 of 70 snaps and the 30-year-old showed his stamina to come up with two crucial plays late in the game.
"I think conditioning is everything, being able to go," Wilfork told reporters Monday after practice.
"The more stress you can put on yourself in the off-season and training camp, I think it allows you to play at a high level once you get later in the season.
"That's one (thing) I did a real good job of, putting that stress on myself this off-season.
Wilfork is heavily-built, weighing 147 kilograms (325 pounds), with a large girth on a 1.88-metres (six-foot-two) frame, but his coach Bill Belichick said that disguises a strong athlete.
"He doesn't have the classic appearance but he is a good athlete, he is in good shape and he can play a lot of plays and play them well," Belichick said.
The tackle's increased involvement in games was initially born of necessity but has become something the player sees as a sign of his commitment.
"He has the ability to play on all three downs," said Belichick.
"Last year we had some injuries and Id say he was forced into it a little bit because of our lack of depth on the defensive line.
"This year, he takes a lot of pride about not coming off the field, which I love in a defensive lineman.
"That's the way Vince's attitude is. He is in good condition. Out at practice today (Monday) during the offensive period, he's running sprints back and forth across the field.
"There is a week to go in the season and I think that is indicative of his competitiveness, his desire to be consistently good, week after week."
Wilfork said that while he has had to work on his fitness, he is a competitor by nature.
"All of my life I've been competitive. I always want to be in the middle of everything," he said.
"All of my life I've thought that I'm a leader and I think leaders have to take control at some point and show the will to do whatever it takes to turn things around.
"At a young age, I had that fight and it is a good fight."
It is an approach that makes him an opponent the Giants are well aware they will have to be smart, as well as strong, to overcome.
"He is definitely hard to move," Giants' running back Brandon Jacobs said. "He is strong and he is quick for his size.
"He is not one dimensional. He makes it really hard for people to figure out how they are going to block him."
(Editing by Greg Stutchbury)