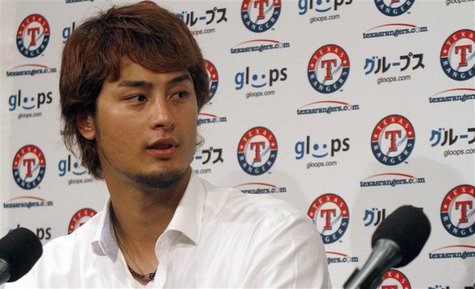 (Reuters) - Texas Rangers pitcher Yu Darvish and St. Louis Cardinals third baseman David Freese are headed to their first All-Star Game after winning a fan vote that ended on Thursday to complete rosters for Tuesday's game in Kansas City.
Darvish, who left Japan to join Major League Baseball this season, became the eighth Texas player on the 34-man American League (AL) squad that will be managed by Ron Washington of the 2011 AL champion Rangers.
Freese, named Most Valuable Player of the World Series for the triumphant Cardinals, will be reunited with former St. Louis manager, Tony La Russa, who is coming out of retirement to manage the National League in the Midsummer Classic.
Darvish has posted a record of 10-5 with a 3.59 earned run average for the AL-West leading Rangers. In 102-2/3 innings, the right-hander has allowed just 87 hits while striking out 117.
"He has a lot of pride and he is very determined," Rangers president and Hall of Fame pitcher Nolan Ryan said of Darvish. "I truly believe he wants to be one of the best pitchers in the major leagues."
Freese is batting .285, with 13 home runs and 50 runs batted in.
"It's St. Louis," Freese said of the huge support he received from Redbird Nation. "They love Cardinal baseball."
Some 46 million votes were cast online to decide the final roster berths.
(Reporting by Larry Fine in New York; Editing by Frank Pingue)