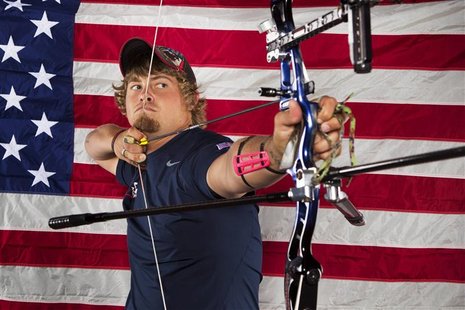 By Peter Rutherford
LONDON (Reuters) - It may lack the romance of William Tell's famed apple shot, but shooting an arrow clean through the hole in a donut 70 meters away could be the start of brilliant bowman Brady Ellison's legend.
The American cut his archery teeth on the compound bow hunting elk and boar with his father in Arizona and only took up the Olympic-style recurve in 2005. But he has wasted no time in making his mark with the weapon.
Blossoming under the tutelage of acclaimed South Korean coach Lee Ki-sik, Ellison has risen to number one in the world. In a groundbreaking 2011 he became the first archer to win three consecutive World Cup events.
The 23-year-old, who lost in the second round in Beijing four years ago, is now favorite to win the individual gold medal at the London Games and establish himself beyond any doubt as the world's best.
"In Beijing I was a baby on the team, I'd only been shooting recurve for a couple of years," he told reporters at a news conference on Tuesday. "Technically I felt like I was pretty good going in but I didn't have the experience I needed."
The Beijing disappointment proved to be a turning point as Ellison dedicated himself to training like never before and took part in as many tournaments as possible.
"Coach Lee and I decided that over the next four years I would go to anything and everything I could, to get all the international experience I could to get ready for here.
"Coming into London it's a lot more business-like, I'm coming in here to perform at my best and hopefully come home with a couple of medals. In Beijing I was just going to compete ... whereas I've come here to win."
Lee said Ellison's early exit in Beijing may have helped him in the long run.
"I think Brady is on his best time because he was so good for a while and then came the hard times," said Lee.
"Because of that he became more humble about his ability so he is training harder than ever. And the results will show that he worked hard."
BEAT THE BEST
With films such as 'The Hunger Games' and 'Brave' putting archery in the spotlight, Ellison has been in high demand.
An appearance on ESPN's SportScience television program explored the science behind his drawing action and looked at the physical and mental requirements of being a successful archer.
Ellison put on a show, displaying his remarkable accuracy by not only making the donut shot but also putting an arrow through the center of a spinning compact disc from 70 meters away -- on the first try.
Hitting the bulls-eye in London should be a piece of cake after that, though Ellison concedes even the best can lose on any given day.
"Archery is archery, it's as much luck as it is skill in hitting the middle," he added. "I'm going to come in here and see what happens. Hopefully I won't lose in the first round but you never know."
Ellison's biggest rival at the Games is South Korea's Im Dong-hyun, who holds the world record for 72 arrows (696 points) and has two team gold medals from Beijing and Athens.
Ellison, who took the number one ranking from Im, is looking forward to facing the Korean again but does not expect the rivalry to get his blood pumping.
"Archery is a strange sport when it comes to that kind of thing. We don't get these kind of heated rivalries, like where I want to shoot against this person and just beat him into the ground.
"I feel like shooting against the best makes me better, so I look forward to shooting against people like Im and (Dmytro) Hrachov from Ukraine. I like going up there and shooting against the best and beating the best."
Ellison begins his quest for Olympic gold on Friday in the individual ranking round at Lord's cricket ground.
(Editing by Greg Stutchbury)