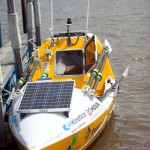 MANISTIQUE -- A Battle Creek native who was rowing around the shore of Lake Michigan for charity has been sexually assaulted near Manistique. It happened early Sunday morning.
Jenn Gibbons would row by day and then pull her row boat up on shore or into a port and sleep in it at night. Her goal was to travel 1500 miles and raise 150-thousand dollars for breast cancer survivors.
Her website describes the rapist as a white male in her 30's with a somewhat athletic build, light eyes, short hair in his 30's. She believes the man traveled some distance to assault her.
Her organization, R.O.W. "Recovery on Water" assists breast cancer patients in their recovery. She had raised about 80-thousand dollars.