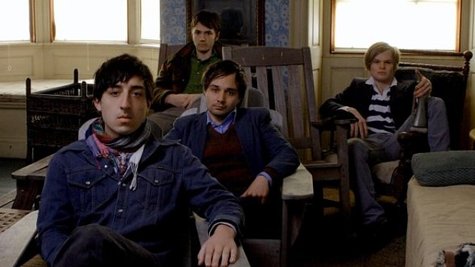 Last month, Grizzly Bear unveiled " Sleeping Ute ," the first single from the band's upcoming fourth studio album, Shields . Now, multi-instrumentalist Daniel Rossen has revealed that the track is about a very unique landmark.
"It's [about] a mountain in Utah," Rossen tells Britain's Q magazine . "I've never visited but it's along the road from a load of monuments in New Mexico that I've been to. The mountain looks like a sleeping warrior and with each season his coat changes. That part of the country really interests me."
Rossen added that fans can expect Shields to be "very dynamic" and it will feature a variety of different musical styles. "I feel like almost every song is its own space and style, and it's pretty schizophrenic its own way, which I like," he explains. "It's pretty inward looking. Without going into everybody's lives, I think everyone on their own level is looking for resolve in an area of their life and not quite finding it, and there's a lot of that feeling on the record."
Shields will hit all the usual outlets on September 18.
Copyright 2012 ABC News Radio