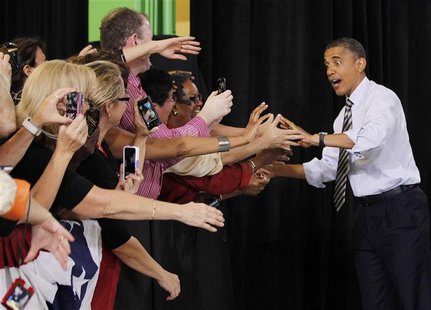 By Steve Holland
WASHINGTON (Reuters) - A grim U.S. jobs report put President Barack Obama on the defensive over the weak economy on Friday with Republican opponent Mitt Romney quickly seizing on what he called "devastating news" on the top issue for American voters.
The U.S. jobless rate ticked up to 8.2 percent in May from 8.1 percent in April and only 69,000 jobs were added during the month, presaging a possible summer economic dip. The jobs report was a reminder of the political challenges Obama faces as he seeks to convince Americans to give him a second term on November 6.
The cold reality for Democrats is that with the election only five months away, there are dwindling options for turning around the jobs picture quickly enough to give Americans' confidence that the next four years under Obama's leadership would be better than the last three and a half.
In Golden Valley, Minnesota, Obama said the jobs report was the result of sluggish growth, the lingering effects of high gasoline prices only now starting to subside and economic instability in Europe. He said Congress should pass legislation to give small business owners a tax break for hiring more workers and giving them higher wages.
And he sought to buy some time from impatient Americans.
"From the moment we first took action to prevent another depression, we knew the road to recovery would not be easy, we knew it would take time, we knew there would be ups and downs along the way," he said.
Romney, who touts his experience as a former private equity executive for why he would handle the U.S. economy better than Obama, called the May jobs report a "harsh indictment" of Obama's handling of the economy.
"Their policies have not worked and in many respects their policies have made it harder for the economy to recover. I think that's one of the reasons why people are looking for a new direction," he told CNBC.
Obama, who visited a Honeywell facility in Minnesota to demonstrate his commitment to job growth, thus far has been holding his own against Romney, who has clinched the Republican nomination.
In the race for the 270 electoral votes needed for election, Obama is favored in states that would provide him a total of 237 to Romney's 170, according to an estimate by RealClearPolitics.com.
But the jobs report was likely to feed more doubts about whether he has the right policies in place to address an economy still sagging from weak growth, high government debt, tight credit at banks for small businesses, and strong competition from China.
It also signaled the likelihood of rough economic conditions through the rest of the campaign, leaving Obama in a weaker position to fend off Romney's argument.
'EVEN SLOWER'
"The May jobs report indicates growth could be even slower in the second quarter, and the economy is dangerously close to stalling and falling into recession," said University of Maryland economist Peter Morici.
There were also concerns that the labor report foreshadowed a summer economic swoon amid fears Europe's financial crisis will hit the United States, where the stock market has already been reeling.
"The worst part about this jobs report is that it was the last chance for a decent report before the full consequence of the slow-moving European implosion really starts to influence the global and U.S. economies," said Matt McDonald, an analyst at Hamilton Place Strategies.
And it will likely lead to a more intense and potentially more negative campaign in a handful of states where the vote is expected to be extremely close like economically hard-hit Ohio, Florida and Nevada and even Pennsylvania, which usually votes for the Democrat
Romney has staked his claim to the presidency by playing up his experience at private equity firm Bain Capital, but the Obama campaign has sought to undermine his argument by pointing out some companies Bain invested in ended up losing jobs while profiting nonetheless.
The strategy thus far has had limited impact on Romney, and some Democrats, such as former President Bill Clinton, have raised questions about whether Bain really had a negative impact.
Despite a hard-fought primary battle with his Republican rivals, Romney is running neck and neck with Obama in national surveys of voters and is near even with him in battleground states like Iowa, Colorado and Nevada
The Republican was in no position to take maximum advantage of the jobs report. Rather than visiting a swing state, he woke up in California, fertile ground for raising campaign cash but an odds-on favorite to go Democratic as usual in November.
(Additional reporting by Patricia Zengerle in Washington and Alister Bull in Minnesota; Editing by Will Dunham and Jackie Frank)