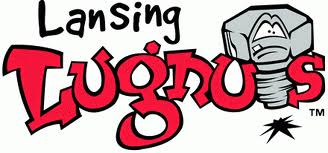 SOUTH BEND (WLMI) K.C. Hobson lashed a two-out, two-run single as part of a three-run rally in the top of the 10th inning to propel the Lansing Lugnuts (39-17) to a wild 9-6 victory over the South Bend Silver Hawks (29-28) on Sunday afternoon at Stanley Covaleski Regional Stadium.
The game went to extras because the Silver Hawks scored five runs on six hits in the bottom of the ninth off of Blake McFarland and Ajay Meyer (Win, 3-1).
But the Lugnuts responded in the top of the 10th against Kable Hogben (Loss, 2-2) thanks to Hobson's run scoring single, with Kevin Pillar recording the third tally when he collided with South Bend catcher Roidany Aguila during a rundown and was awarded home on interference.
The win snapped the Lugs' three-game losing streak, which is the longest of the season, and forces a rubber match in the three-game series on Monday morning.
The Lugnuts starter David Rollins cruised through five shutout-innings in which he walked a career-high four batters, but only gave up one hit and struck out four.
Lansing's offense took advantage early of Silver Hawks starter Blake Perry's wildness in the first inning, scoring three runs on one hit and five consecutive walks in just 2/3 of an inning.
Four Lugnuts recorded multi-hit games in a 13-hit attack. Kenny Wilson led the way, smacking three single, scored two runs, drove in one run and stole a pair of bases. K.C Hobson finished 2-for-5 with a run scored and a walk. Markus Brisker also had three hits, a stolen base and an RBI in four at-bats. Andy Burns reached three times, scored a run and stole his seventh base of the year.
The Lugs conclude their six-game road trip with the rubber match of the three-game series against the Silver Hawks on Monday, June 4th at 10:35 a.m. Right-hander Marcus Walden (3-1, 2.96) starts for Lansing opposite South Bend prospect Archie Bradley (6-2, 4.14). The Lugnuts will return home for a six-game homestand beginning on Wednesday, June 6th at 7:05 p.m. with a Ladies Night against the Bowling Green Hot Rods.