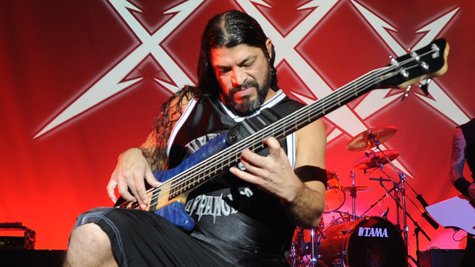 In addition to working on Metallica 's upcoming 3D film, bassist Robert Trujillo will be bankrolling another movie project that pays tribute to late jazz bassist Jaco Pastorius .
"Jaco was my hero growing up," Trujillo tells USA Today . "Hearing him was like hearing [ Van Halen guitarist] Eddie Van Halen doing 'Eruption' for the first time: You thought, 'What instrument is that ?' I loved jazz fusion and branched out from there. But Jaco had an edge that far exceeded his jazz persona. He was funk, he was rock, he was soul. And his whole attitude was punk."
The forthcoming documentary, tentatively titled Jaco , will be helmed by Stones in Exile director Stephen Kijack . The film will feature previously unreleased footage of Pastorius, and includes new interviews with Sting , Red Hot Chili Peppers bassist Flea and Carlos Santana , and others who were influenced by the late bassist. Trujillo says that he expects to premiere the film at the Toronto Film Festival in the fall.
Copyright 2012 ABC News Radio