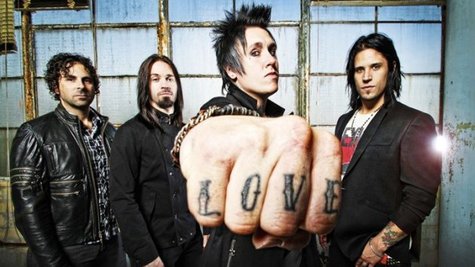 New details have been revealed about Papa Roach 's next album. During an online chat with fans on Thursday, the band announced that they will be releasing their eighth studio album on October 2. Frontman Jacoby Shaddix says that the songs on the new album were heavily influenced by his struggle to become sober and from dealing with the pain of his wife leaving him.
"We wanted to make a dynamic and explosive record that captures the raw emotions of life," explains Shaddix. "We also wanted to incorporate the biological sounds of rock with a digital edge to have a fresh sound. This is the soundtrack to my life and once again I went through some dark s**t and came through thanks to the music."
In addition, the band listed a number of song titles that are expected to be a part of the upcoming album's track list, including "Before I Die," "Still Swinging," "Where Did the Angels Go," "Wish You Never Met Me," "Not That Beautiful" and "Leader of the Broken Hearts."
In other Papa Roach news, the band is gearing up to hit the road with Shinedown , Godsmack , Staind and P.O.D. for the third annual Rockstar Uproar Festival. That outing kicks off on August 17 at Capitol Federal Park at Sandstone in Kansas City, MO.
Copyright 2012 ABC News Radio