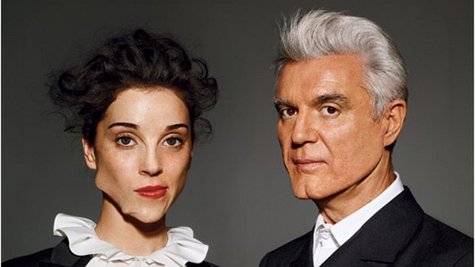 For the last three years, former Talking Heads frontman David Byrne and Annie Clark , aka St. Vincent , have been writing songs together. Now, the duo has announced that they'll be releasing their collaborative album in September and have planned a two-month North American tour to support it.
Titled Love This Giant , the new album will feature 12 new songs with vocal duties shared evenly between Byrne and Clark. "This material would get passed back and forth -- each of us adding and elaborating on it," said Byrne in a statement. "We both had other records and tours in the works, so this project was done in fits and starts, and each series of recording sessions involved a lot of players."
Byrne added that he considers Love This Giant to be "a pop record." "I started to sense that we were ending up with a sound and approach I'd never heard before," explains Byrne. "There were elements that were reminiscent of things I'd heard, but a lot of it was completely new."
Just a few days after the album is released, the duo will hit the road to perform the album as well as "a bunch of songs that we suspect people will know." The trek kicks off on September 15 at the State Theater in Minneapolis and will make stops in New York, Nashville, Dallas and Los Angeles, among other cities.
Love This Giant will arrive in stores on September 11. By submitting your email address on their website , you can get a free download of the record's opening track, "Who." Here's the track list:
"Who"
"Weekend in the Dust"
"Dinner for Two"
"Ice Age"
"I Am an Ape"
"The Forest Awakes"
"I Should Watch TV"
"Lazarus"
"Optimist"
"Lightning"
"The One Who Broke Your Heart" (featuring the Dap-Kings and Antibalas)
"Outside of Space and Time"
Here are the tour dates:
9/15 -- Minneapolis, MN, State Theater
9/16 -- Milwaukee, WI, Riverside Theater
9/18 -- Chicago, IL, Chicago Theatre
9/20 -- Toronto, ONT, Queen Elizabeth theater
9/21 -- Montreal, QUE, Eglise St-Jean Baptiste, POP Montreal
9/23 -- Boston, MA, Orpheum Theatre
9/25 -- New York, NY, Beacon Theater
9/26 -- New York, NY, Beacon Theater
9/27 -- Philadelphia, PA, Tower Theater
9/29 -- Brooklyn, NY, Williamsburg Park
9/30 -- N. Bethesda MD, The Music Center at Strathmore
10/2 -- Nashville, TN, Ryman Auditorium
10/3 -- Atlanta, GA, Cobb Energy Center
10/5 -- Austin, TX, Bass Concert Hall
10/6 -- Houston, TX, Hobby Center
10/7 -- Dallas, TX, McFarlin Memorial Auditorium, SMU
10/10 -- San Diego, CA, Humphrey's
10/11 -- Santa Barbara, CA, Arlington Theatre
10/12 -- Costa Mesa, CA, Segerstrom Theater for the Arts
10/13 -- Los Angeles, CA, Greek Theater
10/15 -- San Francisco, CA, Orpheum Theatre
10/17 -- Seattle, WA, Moore Theatre
10/18 -- Portland, OR, Arlene Schnitzer Auditorium
10/20 -- Vancouver, BC, Centre in Vancouver for The Performing Arts
Copyright 2012 ABC News Radio