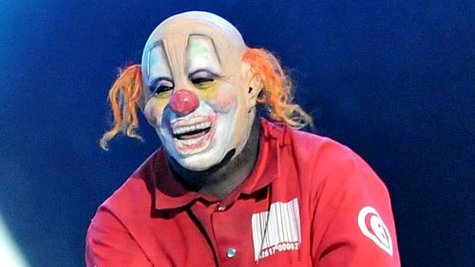 Next month, Slipknot will release Antennas from Hell , an album which features 19 career-spanning tracks and includes a new mix of "My Plague" as well as live versions of "The Heretic Anthem" and "Purity." While some may be inclined to call this a greatest hits album, percussionist Shawn "Clown" Crahan doesn't see it that way.
"I hate 'greatest hits,' I hate 'the best of,' Crahan tells Rolling Stone . "I will allow the word compilation. Usually the terms 'greatest hits' or 'best of' mean the band's in trouble, they're breaking up or trying to get off the record label. And none of those scenarios are true with us."
RollingStone.com is giving the fans the chance to check out one of the video features that come with the three-disc version of the album, which includes a live CD, (sic)nesses: Live at the Download Festival 2009, and a 10-part Broadcast from Hell video series created by Crahan. The series features clips of each member of the band along with one that ties them all together.
"I took two songs and I grabbed elements, made a remix and I put it under the montage," reveals Crahan. "The remix does not match up with the montage. It's supposed to be chaotic and f**king crazy…I did not want to remix songs that are held as God to people. We hold those songs as sacred."
Antennas to Hell will arrive in stores on July 24.
Copyright 2012 ABC News Radio