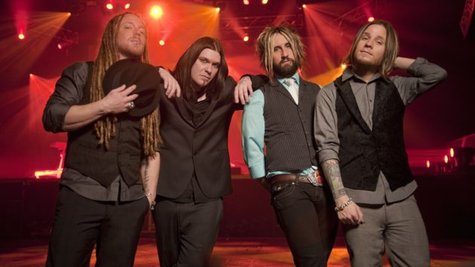 Back in March, Shinedown released the video for "Unity," the band's single from their latest album, Amaryllis. That video's storyline features a young girl who travels around town taking pictures of people, mixed with shots of her arranging the pictures on a wall to create a mosaic of two people shaking hands.
Now, the band has released a new video for the track, which begins with the band huddled in a circle performing a pre-show ritual. As the band sways back and forth, frontman Brent Smith can be heard saying, "We will not fall because we have each other. We will not fall because we are brothers. We will not fall because we have love. We will not fall because we will rise above." The new video continues, mixing clips of the previous video along with shots of the band performing "Unity" live in front of a festival crowd.
In other Shinedown news, the band is gearing up to hit the road with Godsmack , Staind and P.O.D. for the third annual Rockstar Uproar Festival. That outing kicks off on August 17 at Capitol Federal Park at Sandstone in Kansas City, MO.
Copyright 2012 ABC News Radio