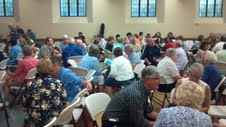 KALAMAZOO (WKZO) -- The Michigan Organizing project in Kalamazoo met this week and they have resolved to campaign for Kalamazoo County Commission Candidates who support a vote on a homelessness millage.
It comes as the nation recently hit a new high water mark for homelessness. For the first time there are at least a million children who are homeless in the U.S. Eric Tars with the national law center on Homelessness and poverty says Michigan has been hit hardest, with the number of homeless children increasing 300% in the last 3 years.
In Kalamazoo county alone this last school year, the number jumped from 11-hundred to 16-hundred children who had no place to call home.
The County's own Housing Commission says shelters are not the most effective way to help the homelessness, it just provides temporary shelter, not a route to having a home. They proposed the homelessness millage to close that gap.