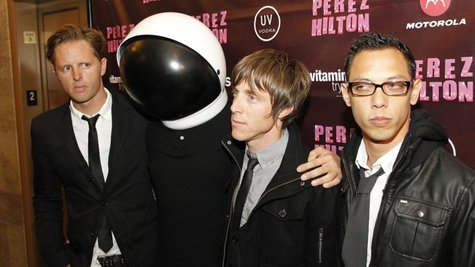 A few weeks ago, AWOLNATION posted a one-minute trailer for the video for their single "Knights of Shame" on their website. In an interview with ABC News Radio, frontman Aaron Bruno says that the video for the 12-minute song will be a unique viewing experience.
"So many music videos are tiresome to watch I think and we want to make people say 'What the heck is this' as opposed to it just being a typical-looking and feeling video," explains Bruno. "I take pride in the videos being a little bit stranger than most music videos out there."
Bruno added that "Knights of Shame" was one of his favorite songs on the album and that he wanted to create a special video for it. "Ever since I wrote it I always thought it would be really cool to be able to have sort of a short film that expresses the undertone and the message of the record as a whole and the song," notes the singer. "Lyrically I feel like it definitely ties together sort of how I feel about the way things are shaping these days in society and also the way I felt about the struggle to get to this point of success in my career."
While the singer didn't say exactly when we will be able to see the short film, it is expected to be released sometime soon.
Copyright 2012 ABC News Radio