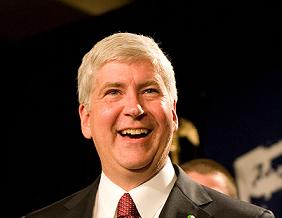 LANSING (WKZO) -- Governor Snyder and legislators are working toward reducing Michiganders' income tax six months earlier than planned.
Individual income tax rates are set to drop from 4.35-percent to 4.25-percent in January. If that reduction kicks in on the first of June instead, state revenues will be reduced by 96-million dollars.
Other tax issues being proposed include House Speaker Jase Bolger's recommendation to increase the tax exemption on an individual's first 37-hundred dollars of income. The governor hopes to have the new fiscal budget completed by June 1st.