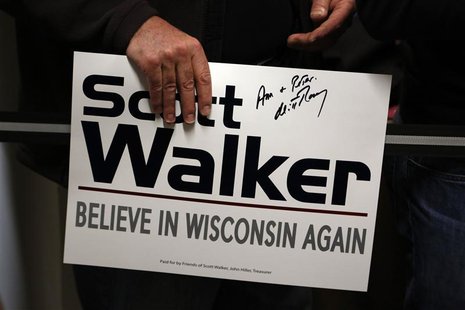 By Brendan O'Brien
MILWAUKEE (Reuters) - Wisconsin's Republican Governor Scott Walker and his challenger Milwaukee Mayor Tom Barrett drew sharp ideological differences on Friday during the first of two debates before a special election to recall the governor on June 5.
Walker faces a special election after he angered Democrats and labor unions by pushing through the state legislature a law that strips public sector labor unions of much of their power. Walker would become the third governor in United States history to be recalled if he loses.
During the one-hour debate in Milwaukee, Walker touted his efforts to balance the state's budget by curbing the power of public sector labor unions, while Barrett painted the first-term governor as untrustworthy.
"This election is not a rematch or do-over because we can't do over the decisions of Scott Walker to start a political civil war," Barrett said.
The two candidates are familiar foes, with Walker defeating Barrett by five points in the 2010 gubernatorial race. A recent poll conducted by St. Norbert College and Wisconsin Public Radio showed Barrett trailing Walker by a similar margin, 50-45 percent.
The polls continue to show an extremely small number of undecided voters. As a result, both candidates need to motivate their supporters to turn out to vote.
"What Barrett did tonight for himself is he came out very assertive," said Tim Dale, a political scientist at the University of Wisconsin-Green Bay.
"Walker also did what he needed to do ... appear strong and almost non-responsive to Barrett," he added.
Walker's changes to organized labor last year forced state and local government workers like teachers to pay a portion of the cost of health insurance and pensions, capped wage increases and required unions to be recertified every year. Walker said the reforms were needed to close a budget gap, while Democrats and unions said they were an effort at "union busting."
Walker said during the debate that the state now has a $154 million surplus and has experienced more than $1 billion in savings due to his reforms.
"We balanced (the) budget without raising taxes, without massive layoffs and cuts in programs," Walker said. "The good news is that our reforms are working and that is why our opponents don't talk about them anymore."
The candidates also debated over Walker's record in creating jobs. The Bureau of Labor Statistics showed that Wisconsin had lost more jobs than any other state between March of 2011 and March of 2012. But earlier this month, Walker aides released the state's Quarterly Census of Employment and Wages data, which suggests an increase of 23,321 jobs in the state between December 2010 to December 2011.
"Those numbers have never been verified and he knows they have never been verified," Barrett said. "It's clear what's going on, he can't defend his record on jobs."
Barrett also criticized Walker over an investigation into corruption during the governor's time as Milwaukee County Executive. The probe has resulted in criminal charges against five former aides and close political associates.
Walker blasted Barrett's record as Milwaukee mayor for the last eight years. The city has become one of the poorest in the nation with an unemployment rate of 28 percent, Walker said.
"We don't want Wisconsin to become Milwaukee," Walker said.
The two candidates will square off again for another debate Thursday.
(Editing by Greg McCune and Lisa Shumaker)