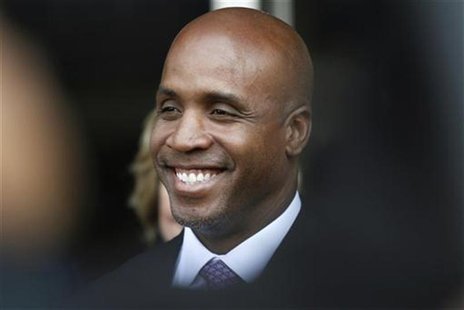 SAN FRANCISCO (1660 THE FAN) – Barry Bonds hasn't worn a Giants jersey in over five years, but that doesn't mean he's not connected to the team.
Bonds released a statement today expressing interest in helping the team in any capacity. Manager Bruce Bochy admitted the club enjoys Bonds' clubhouse visits, but said the decision to hire him would be up to general manager Brian Sabean.
The embattled 47-year old slugger has spent most of his post-baseball days in a courtroom fighting a conviction of obstructing justice amidst steroid allegations, but was never convicted of steroid use. Bonds admitted to reporters that his reputation is "iffy" at best, and is ready to make improvements on that front.
Barry Bonds began his career in Pittsburgh, but is better known for his time with the San Francisco Giants. He holds the MLB record for homeruns in a single season (73) and career homeruns (762) among many other batting records. Many consider his career tarnished by allegations of steroid use, although he has never been convicted of using steroids. Bonds will be included on the next Hall of Fame ballot, but to date, no player linked to steroid use has been elected to Cooperstown.