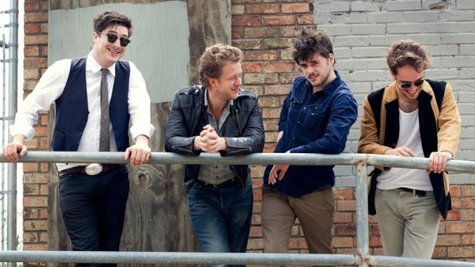 For months now, Mumford & Sons have been tantalizing fans with tidbits about the progress of their sophomore album. Now, the guys have revealed that they expect to release the new album in September.
"We finished the record this week," multi-instrumentalist Ben Lovett told a Dutch radio station during a video interview . "We hope to get it out in September. We just figured that out, September 24th."
Lovett added that the sound of the band's forthcoming release will stay true to what fans have come to expect from them. "Nothing's really changed in our dynamic as a band," explains Lovett. "We write songs together and they're very much based in our experiences. For the most part, it's a progression. We don't want to reinvent ourselves."
In other Mumford & Sons news, the band just announced they've added a number of U.S. tour dates as part of their Gentlemen of the Road Stopover series, which features the band performing in a number of unique concert sites.
"The Gentlemen of the Road Stopover is based loosely upon our favorite festivals like Colorado's Telluride Bluegrass and Scotland's Loopallu Festivals," said the band in a joint statement. "We want to stop off in towns where bands don't usually tour, and celebrate the local people, food and music."
Tickets for the Stopover dates will run you $69 and will go on sale starting on Friday at 10 a.m. Visit GentlemenOfTheRoad.com for more information.
Here are the Gentlemen of the Road Stopover tour dates:
8/4 -- Portland, ME, The Eastern Promenade
8/11 -- Bristol, VA/TN, Off State Street in Downtown Bristol
8/18 -- Dixon, IL, Page Park
8/25 -- Monterey, CA, Monterey County Fairgrounds
Copyright 2012 ABC News Radio