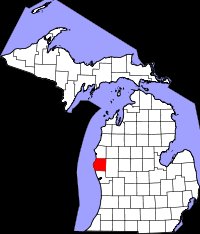 OCEANA COUNTY (WKZO) -- A West Michigan man is being held without bond after he allegedly ran down his estranged wife and her new boyfriend with his truck over the weekend.
Oceana County Sheriff's Lt. Craig Mast claims Julian Hernandez Zapata was asked to meet with the mother of his 4 children, and boyfriend Sabastian Rios-Guerrero near an asparagus field, and at some point, decided to run him over.
Apparently Mast says the boyfriend was his only target, he was remorseful about also striking his wife.
Andrea Garcia Gonzalez was pronounced dead at the scene. Rios Guerrero remains in critical condition. Zapata is charged with open murder and attempted murder.