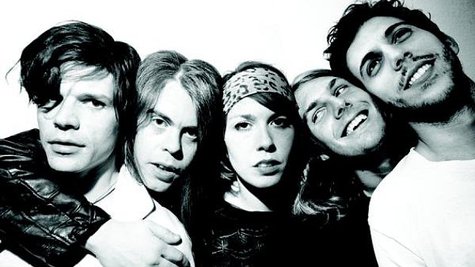 Grouplove decided to try something different while recording their sophomore effort, Spreading Rumors . Drummer Ryan Rabin says that the group, who had recorded their parts separately for their debut album, laid down the tracks for Spreading Rumors together in the same room.
"The first album we did while we were in my apartment…everything was in this tiny space and had to be over-dubbed," he tells PrefixMag.com . "This time around we got to play it all together at once and in a way got to prove ourselves as musicians." Guitarist Andrew Wessen adds, "Recording live really is the best way to do it if you can. There really is a bit of magic that comes with being in a room together like that."
Singer/keyboardist Hannah Hooper reveals that while the band came up a large number of tracks for Spreading Rumors , they trimmed down the track list to include only the songs that would enhance their live sets.
"We have a lot of songs that didn't make the album, songs that were much slower and more emotional to a certain extent," she explains. "They're all great songs but we had to consider what we love doing on stage. When it comes to our live shows we want to get everyone amped up, to have everyone leave with a smile on their face as though they just went to one of the best house parties they ever been to."
Spreading Rumors will arrive at all the usual outlets on September 17 and will be available in a variety of formats, including standard and deluxe digital versions, as well as a limited-edition flexi-disc book, which features the tracks on individual vinyl "pages."
Copyright 2013 ABC News Radio