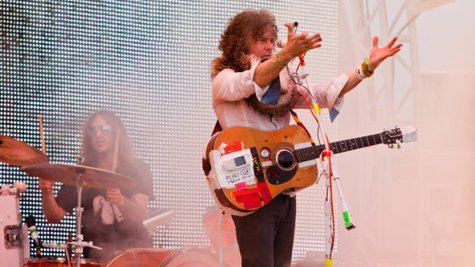 You may have noticed that Wayne Coyne is starring in a series of trippy TV commercials for Virgin Mobile's " Retrain Your Brain " ad campaign. Now before you think The Flaming Lips frontman sold out to become a corporate shill, you should know that he didn't get a paycheck for the commercial.
"I didn't even ask for any money," Coyne tells ABC News Radio. "It was just some friends of mine that do a lot of weird advertising, and they needed a weird, older, freaky guy just at the last minute. I didn't even know if I was gonna be in the commercial; I was just helping them."
Coyne adds that he was originally supposed to be on screen for just a few seconds, but when the ad hit the airwaves, the singer noticed that he was featured quite a bit in the commercial. "In the beginning I wasn't gonna be the focus of the commercial; I think I was just gonna sit in that brain chair," he explains. "There was gonna be women and elephants and all these other things, you know, but now it's me. But we didn't go into it thinking I'll be the spokesperson for this phone company."
The Lips are currently on tour overseas, but they'll return to kick off the next leg of their North American tour on July 11 at Time Warner Cable Pavilion in Raleigh, North Carolina. Visit FlamingLips.com to view the full itinerary.
Copyright 2013 ABC News Radio